bio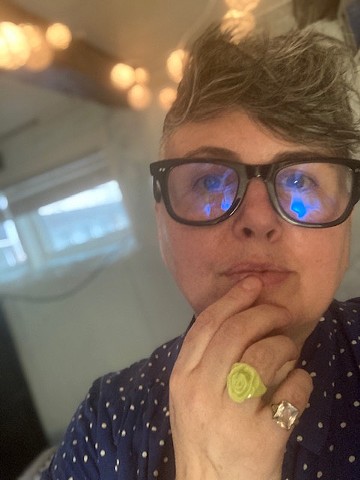 Nina Morrison is a formerly NYC-based, currently Iowa City-based playwright, screenwriter, director, teaching artist and activist. Nina is currently working on Hearts on Fire, a musical developed with composer Jeannie Fry, which will have a staged reading at Jungle Theater on Friday, June 9th, 2023. Other current projects include Valu, a one-hour sci-fi drama pilot; and this spring she directed The Roommate by Jen Silverman at Riverside Theatre. She is a lecturer for the IowaLink Program at the University of Iowa. She also teaches playwriting for Chicago Dramatists and for the Iowa Young Writer's Studio, and she is continuing to teach creative writing at The Summer Writing Residency offered through the Belin-Blank Center, Gifted and Talented Development, at the University of Iowa.
She was a Visiting Assistant Professor in the Department of English at the University of Iowa in 2020; she was one of the 2019-2020 University of Iowa Provost's Postgraduate Visiting Writers. She was a 2019 finalist for the Jerome Playwriting Fellowship, and a 2018 and 2019 finalist for New Dramatists. She graduated from the University of Iowa's MFA Playwriting program in 2018.
In 2020 an informal development reading of Hearts on Fire, written by Nina with music by Jeannie Fry, was presented by Miriam Randolph and Weiyi Zhang. Nina directed an online reading of Reunion by Nandita Shenoy as part of the Riverside Theatre and Mirrorbox Theatre Out the Box series. Nina directed an online reading of The Deadly Belles by Peter Gil-Sheridan as part of the Mollie New Works Festival at The Theatre Mine on May 31, 2020.
She directed Young Jean Lee's Straight White Men at Riverside Theatre in 2019. Féminaal, a play by Nina Morrison, was presented by The Grumble Theater, Twin Cities in May 2019.
Nina directed Rotten Eggnog, a new play by Sean Christopher Lewis, at Riverside Theatre, Iowa City in 2018; and she directed a reading of A Hundred Circling Camps, a new play by Sam Collier, at The Goodman Theatre, Chicago in July 2018.
Select NYC credits: Nina's play Aurora fra Bergen, or, Ibsanity was presented in Fordham University's mainstage season in spring 2018. Her devised piece Arrow In was presented in May 2013 by Dixon Place. Arrow In had been in development since November 2011; an excerpt was presented in the 2012 HOT! Festival. The first half of Arrow In was created while she was the 2011 Winter Season Artist-in-Residence at Dixon Place. She presented the first excerpt in February 2012 at the culmination of that residency. Her piece Girl Adventure: Parts 1-4 was presented by Dixon Place in May 2011. Excerpts of Girl Adventure were presented in the Little Theatre series in 2010 and 2011 and in the HOT! Festival in 2010 and 2011. Nina wrote and directed the play Forest Maiden which was presented in the 2009 New York International Fringe Festival. She wrote Forest Maiden while she was a 2008-2009 WORKSPACE Writer-in-Residence, a residency program of the Lower Manhattan Cultural Council.
Playwright at UIOWA:The Age of Innocence in 2018 UIOWA New Play Festival; AURORA FRA BERGEN, or, IBSANITY written and directed by Nina in 2017 UIOWA New Play Festival; Féminaal directed by Sam Collier in October 2015.
Collaborations at UIOWA: co-director with director and playwright Sean DeMers Great Emergencies; writer and performer in Chris Yon's Dance MFA Thesis The Stab Nebula: A Blinding Whirlwind of Flames and Tears March 2016; Don't go, a site-specific devised project presented as part of the Worth Fighting For Pop Up Museum.
Directing at UIOWA: Thesis Lady from the Sea by Henrik Ibsen, translated by Rolf Fjelde in April 2016, Silo Tree by Sam Collier in the New Play Festival 2015, Family Dinner by Sarah Cho, thing with feathers by Sam Collier November 2014, Quiet, Witches by Sam Collier, March, 2014, Four Stories by MFA playwright Micah Ariel James in the New Play Festival 2014. Nina was an invited director to the Kennedy Center/National New Play Network Directing Intensive: Developing New Work.